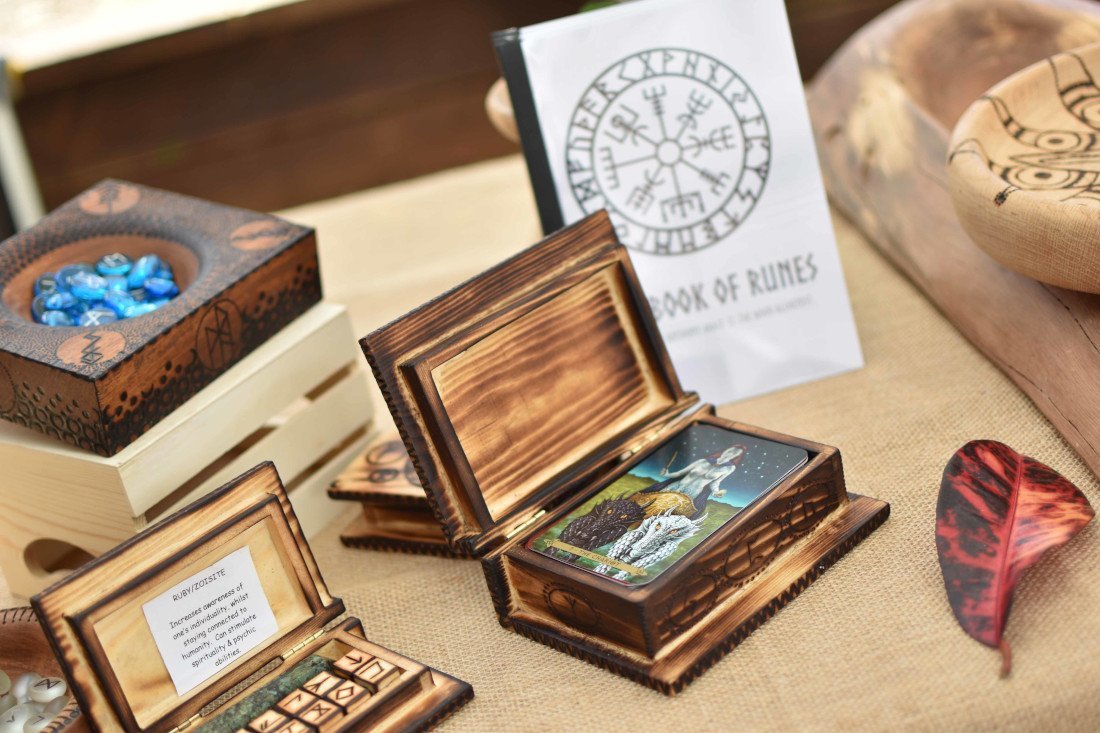 26 Jan

Ancient Teaching

Ancient Teaching at the Original Eumundi Markets

Have you met an Alchemist? Would you know if you did?

An Alchemist is a person who attempts to purify, mature or perfect certain materials; with the intention to transform them into something new through a seemingly magical process.

Local Artisan, Anthony Grace is known as the 'Wood Alchemist'. Anthony's talent and intricate knowledge of his craft is the enchantment that continues to draw people to his stall at The Original

Eumundi Markets.

"My specific passion is wood", says Anthony.

"The process I use is to resource the base material for my craft from what others have determined as cast-offs, rejects or spoils. For me, the alchemy is in the swirling pool that happens right before my eyes.

I infuse my inspiration, spirit, art, intuition, love, and fire into a piece of wood, that would have otherwise been discarded as waste. Once the process is completed, I find I am holding a new design that skilfully reflects the splendour and perseverance that still exists in this raw material. Through this process, creations are formed to serve as functional art pieces for the home and for the heart.

To humble the whole experience would be to say, I take ownership in rescuing from fire and landfill, a piece of wood which I have given a new cycle of life. This is wood from a tree once felled simply for the value of its lumber.

Into Anthony's revived timber pieces, he methodically incorporates a medley of symbols, signs and markings specifically etched in fire, and fused in spirit by his in-depth knowledge and passion for runes.

As Anthony explained, "The symbols and designs I incorporate into the wood are the Elder Futhark runes used by the Germanic Scandinavian Celtic tribes originating from what is now known as modernday Europe. These symbols date back as far as the 3rd century BC when runes were used in spiritualand communicative contexts. I use the runes in my own practice respecting and sharing the wisdom and guidance I receive. I enjoy creating pieces and then channelling the bind runes to complete specific art pieces. A bind rune is a combination of rune with a pictorial signature of deity or spirit known as a sigil.

The public exposure my work receives at the markets allows me to offer commissioned pieces and one offs with rune casing sets all individually hand crafted. The magic is the energy that seamlessly flows during the creation process. To my knowledge I am the only Wood Alchemist who specialises in this type of blend of material, whilst channelling and implementing the symbolic mysticism of the rune as an ancient and honoured practice."

Anthony has been a consistent face as a valued stall holder at the Original Eumundi Markets for the last number of months. But as with many, it was a case of taking that leap of faith to follow his

passion. As Anthony shared; his starving creative heart was beckoning a tree change.

Like many, Anthony had followed the lucrative money trail and spoils on offer; reward for long hours and endless days working in hot conditions synonymous of life as a worker in the Western Australian mines. Yet deep down he was bored. Quitting, coming home and embracing the life he knew awaited him, was always foremost in his mind. He intuitively knew, all he wanted to do was get creative. That was all the reward his heart truly desired….and that is exactly what he did.

"The concept of walking away from the big money the mines guaranteed was hard especially when combined with other circumstances my life was presenting at the time. It was super difficult to follow my calling, but I kept building my tool collection, my contacts, resources, equipment and after much adventure and several setbacks I now know I made the right decision. I'm in the flow of what I have always wanted to do", says Anthony.

Apart from being a regular at the Original Eumundi Markets every Saturday; Anthony hosts 'pyro' workshops from his studio. The occasions often take the form of a beer, BBQ and burn night where clients get into the weave of socialising with likeminded people.

The gift Anthony brings to his craft is his ability to channel and become aware the direction that piece is taking him be it love, protection, function, or art. His belief is that the calling is always there in a truly unique way for a person to also seek the magic that can be channelled. When prospective customers look at his artwork, this is the evolution and story he shares as the genesis of that creation.

"I create in the moment. One week I could be making talking circle sceptres the next, large, exquisite kitchen bowls. It all depends on what I can resource or rescue at the time. I do custom pieces by request and have no hesitation in referring a customer onto another artisan who I feel would better suit what they are seeking. As much as I enjoy art forms and creations, I love it when witchy pieces find their way home. That to me is the real magic."

Like many, the Original Eumundi Markets delivers that feel good vibe that Antony as a stallholder depends on. He feels supported whilst also seeing people connecting, having fun and earning a living.

If you have a dream in mind, be it a seed still nestled in your hand – then plant it. Every step is step closer. Every failure, an opportunity to learn. But every success story starts with that story being told and shared to inspire and educate. Untapped knowledge, messages and awareness come in many forms. For the Wood Alchemist, his gift is sharing the ancient craft he believes still has many answers.

The Original Eumundi Markets. Come discover the story behind the stallholder every Wednesday and Saturday, rain, hail, or shine.