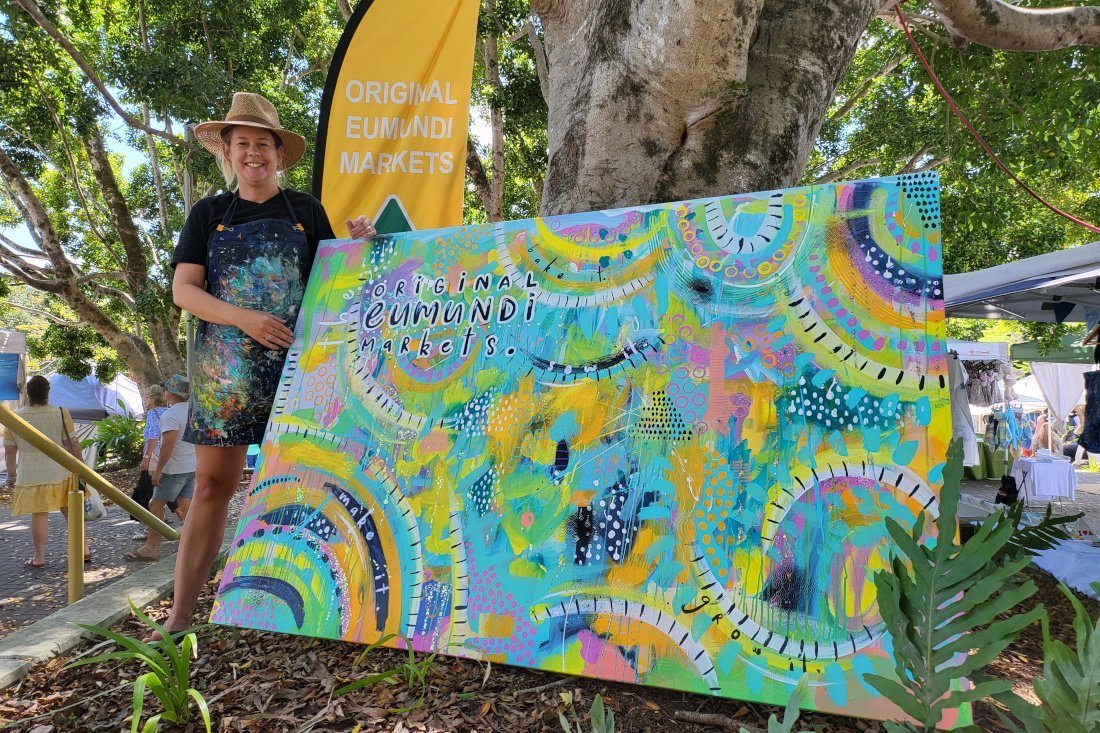 20 Nov

Colour Me Happy
With Dani Miles from Dani Em Art at the Original Eumundi Markets – Long Story Short series
Come along, indulge your senses. Ignite the imagination and the aspiring Artisan in all of us as every Wednesday and Saturday the cobblestone aisles and alleyways of the Original Eumundi Markets come to life. This community of likeminded people have taken a leap of faith to showcase their finest crafts meeting the ethos of Make it, Bake it, Sew it or Grow it.
One such Artisan whose talents and creations have inspired many is Danielle Miles who exhibits her skill under the profile name of Dani Em Art.
'There are many quotations that move me. I love quotes about the healing power of the sun and the ocean. It is so true when it comes to a swim in the sea to energise our well-being.'
Dani draws on her love of words and quotations to incorporate into her artwork. In doing so, she takes her craft in a playful direction on wood and canvas with turquoise sea blue themes and mandala designs. Her abstract style is consistent in her larger artworks.
Dani's current passion is the energy and inspiration she draws from working with mixed media such as transfers, stencils, feathers, flowers, sand, shells and then the paint mediums of acrylics, inks, watercolours, pens, crayons, pastels. Dani's style is intuitive, and her personal story reflects her vision which comes straight from the heart.
So, what is Dani's story and how did she find herself taking her leap of faith to become a highly regarded stall holder at the famous Original Eumundi Markets.
"I'm not actually a trained artist", says Dani. "All my work is self-taught. My official qualification is Bachelor of Environmental Science with a minor in Marine Ecosystems."
"I always wanted to work in conservation. When an opportunity to volunteer at Underwater World (now SEA LIFE Sunshine Coast Aquarium) came up, I took it. I worked as Interpretations Coordinator writing many of the show scripts and informational signage throughout the aquarium. I now work there on a casual basis as an Education Officer / Tour Guide. My art is my passion for the marine environment. I met my husband at university. Had I of not gone to Uni, I'm pretty sure I'd be creating art wherever I was!"
The aquarium became a valuable learning platform of many new skills for Dani. Public speaking, administration, marketing, being creative, up-selling, and even digital art. But being vulnerable in putting herself in the public eye, has been an emotional challenge, as she struggled with post-natal depression and debilitating anxiety.
"I've always been a worrier, but it surfaced more so once I had children. PND is not something often addressed amongst women. It takes a lot of courage to speak up when something is not right, post-partum. For me it felt like a numbness. Going through a dark tunnel with no end in sight. My art was a way to lose myself in "me" time. To now share with others the calming, therapeutic effects of bright, beautiful colours and hand-painted quotes is the bonus," says Dani
Her artwork emanates her passion and is often felt by others visiting her stall. It can bring people to tears which can be quite an emotional moment to share with a stranger.
"Often one of my painted quotes will resonate with someone so much, they've either bought it on the spot, or they have come back at the end of their visit to make it their own."
"In the future I hope to offer specific therapy art classes to navigate a person through mental health challenges. For now, I offer coffee and paint mornings where worn-out parents can drop the children at school and join other like-minded parents to splash a bit of colour about whilst having an informal coffee and a chat. A good friend of mine and I started doing this at a local café as we both suffer from PND. After a few photo posts on Instagram, I had others wanting to join in too."
Taking that leap of faith in March 2020, the Original Eumundi Markets have been a wonderful avenue for Dani to heal and focus basking in the creative talent around her. Her Saturday 'Live Art' canvas pieces are proving to be a popular drawcard to showcase that journey.
There is a large piece of artwork currently hanging on display at the Markets which has Dani's influence beautifully brushed into it. It's called 'Making a Masterpiece.'
The Original Eumundi Markets set about introducing an activation activity where kids of all ages could leave their mark on the huge blank canvas on display. With an array of psychedelic colours to get creative with, it quickly proved to be a huge success. Dani was invited to add the final touches with her inspirational words brushed and blended into the finished product.
"In these hard times, it's so important to focus on the positives and happiness – not dwell on the bad things that happen" – something she has had to fight constantly. She knows artwork can brighten up a wall in a house with beautiful colour to make people smile.
"I love the vibe of the Original Eumundi Markets. There is an overwhelming feeling of happiness. I felt welcomed and valued as a stall holder from the very first day, growing many wonderful friendships. Each week the ground crew put up my market tent and make sure it is secure.", says Dani.
"My message for budding Artisans is to not hesitate if you have something to show the world. Work towards getting it out there. It is not just about sales. It's about meeting different people and showing your unique style to gain more exposure."
The Original Eumundi Markets is a destination to put into every diary. A place to colour us all happy every Wednesday and Saturday, rain, hail or shine. Come visit, there's something for everyone.