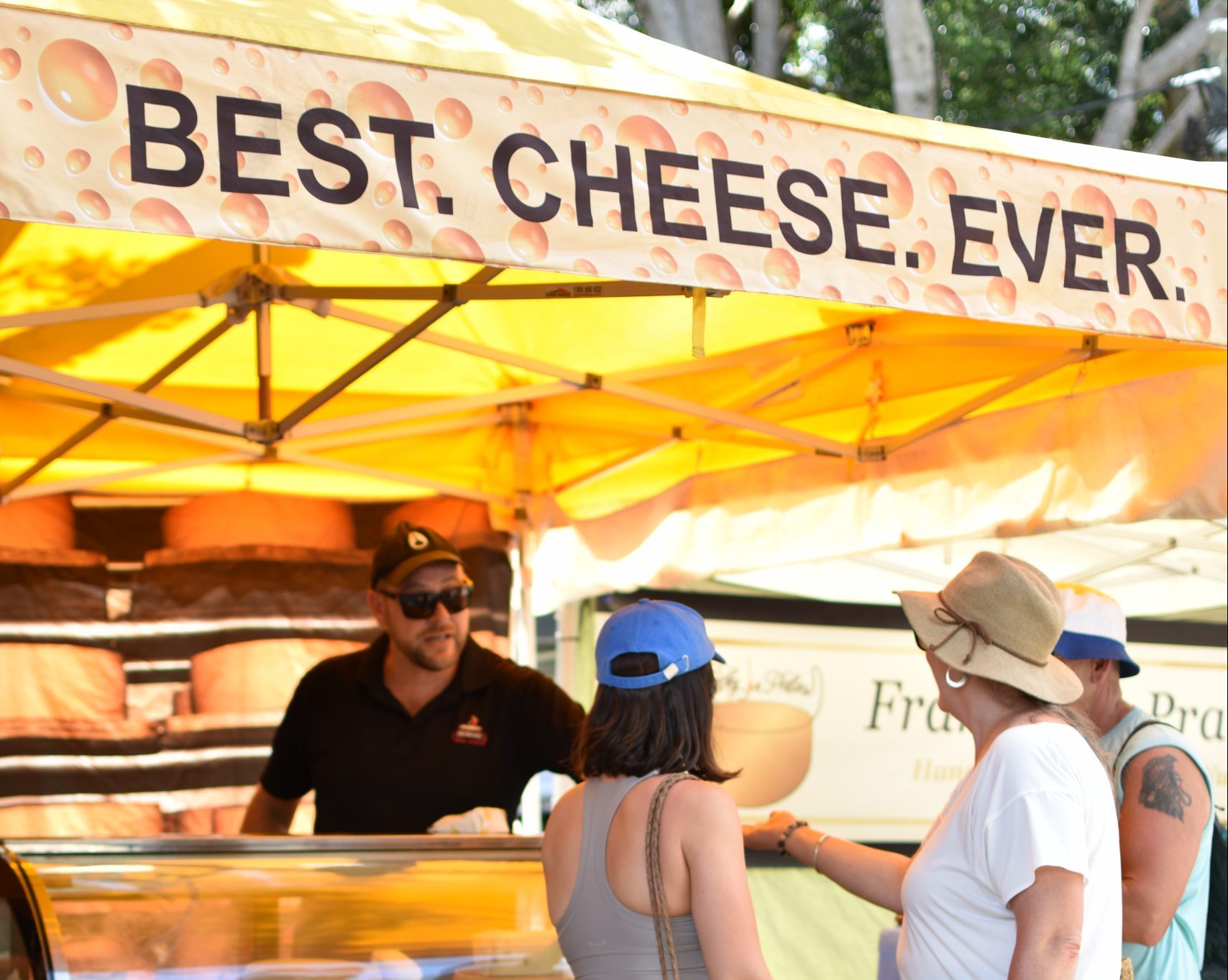 25 Jan

COME MEET THE CHEESE MONGER

COME MEET THE CHEESE MONGER

Everyone knows the Swiss are famous for their incredible cheeses. The most popular cheese in Switzerland is Gruyère, although the Appenzeller, Tilsit and D'Alpage also enjoy a delicious reputation.

Another is Snake Bite. This is an aged (10 to 14 months) Swiss Alpine cheese, very strong in flavour, made from cow's milk produced by Swiss brown cattle in Northern Switzerland.

Meet Marc Luethy the Original Eumundi Markets very own Cheese Monger. As a proud man of Swiss heritage, Marc just happens to also be the face behind the popular market stall – Best Cheese Ever. The array of raw milk cheeses, natural and unpasteurized that Marc has on offer is enough to tantalise and tempt the tastebuds of every cheese lover. As Marc says, 'cheese is love and everyone should eat more cheese!'

For the last 7 years Marc has become part of the community of stallholders who bring their love, their passion, their talent, and their livelihoods to these famous markets. Every Wednesday Marc has been providing locals, visitors, and tourists from all over the world with an array of beautiful organic unpasteurised Swiss cheeses. Engaging with his customers for a chat and offering a taste test, is the essence of what 'Best Cheese Ever' is all about. The knowledge that Marc shares gives a fascinating insight in the world of cheese.

'Most cheeses these days are processed to make them a modern day inclusion on our dinner plates. However, processing the cheese creates a used by date', says Marc. 'Unpasteurised/ fermented hard cheese can be aged for 2 years or more. It is essentially old school cheese – real cheese – and can never go off. As the cheese hardened it becomes safer as it cannot go off due to the salts and minereals produced in the aging process. Raw cheese is the way cheese have been produced for hundreds of years – that's why do we do it. Its not possible to make raw cheese in australia and all the cheese on offer at Best Cheese Ever stall, is imported from Switzerland.

At Best Cheese Ever you will be tempted by Swiss cheese croquettes, European style charcuterie board, Festive Cheese Platters; and the perfect cheese to make a morish Cheese Fondue to impress your dinner guests. A speciality cheese as a unique gift on any occasion is also a popular customer request. Marc also does pre orders upon request. Ensuring his hardcore cheese loving customers find their fix from his selection of cheeses is the thrill Marc embraces.

'I was at a point where I didn't know what to do with my life. This drove me to a point of deciding to start my own business and I have not looked back', says Marc. 'These stallholders are a community of real people. Every single store here is a livelihood and if you support that, you support your community.'

Marc Luethy is the stallholder behind Best Cheese Ever. Marc's story is another of the fabulous stories just waiting to be discovered at the Original Eumundi Markets, Wednesday and Saturday, rain, hail, or sunshine.