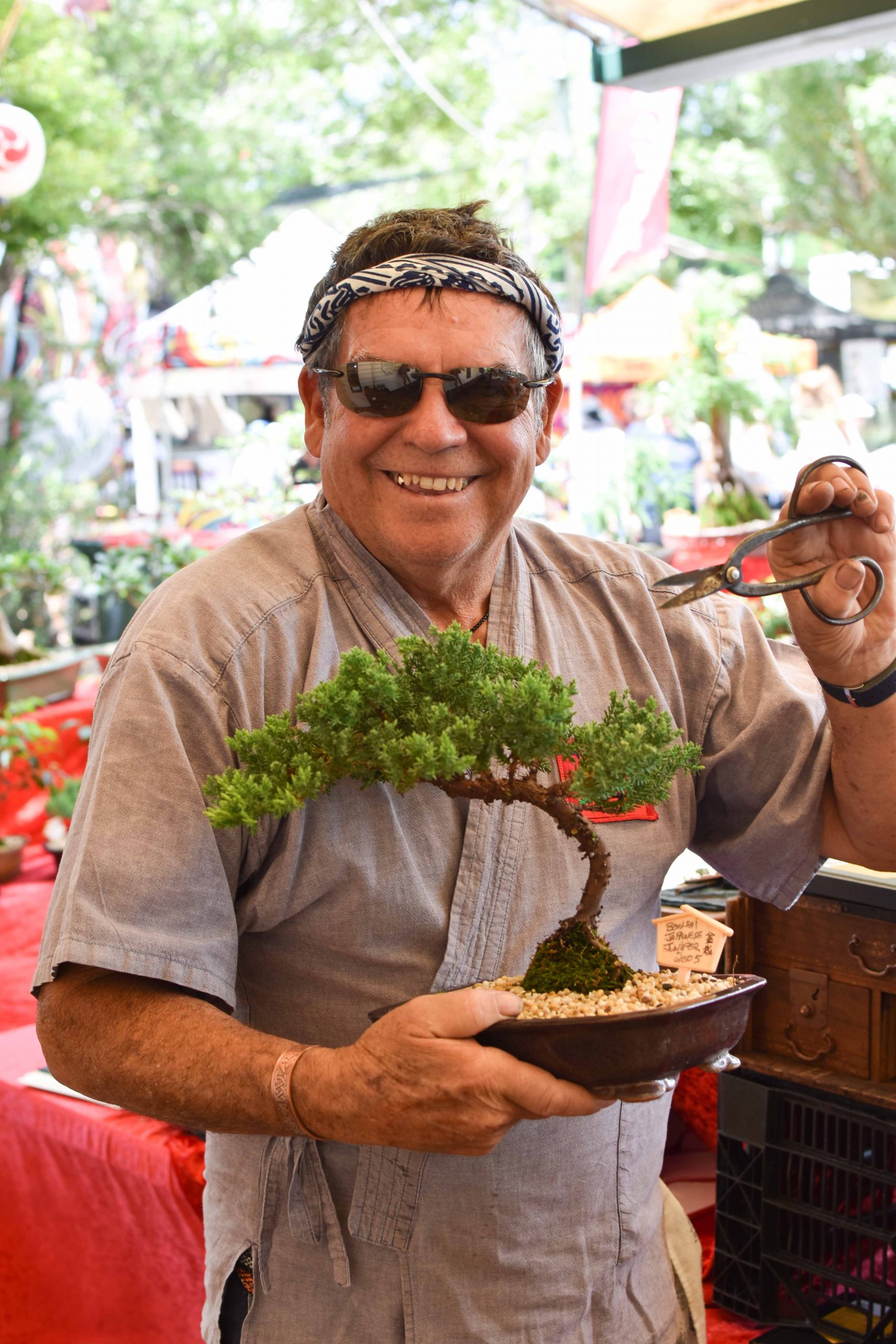 05 Feb

Meet the Bonsai Man

I CHI GO I CHI E is a very old Japanese proverb meaning – 'Chance meetings can change your world'.

For Michael Eberle, these profound words depict the junctions of his life. It may have been a chance meeting, or encounter; but those episodes completely changed the course Michaels' life would take from that moment onwards. Michael is known as the Bonsai Tree Artisan at the Original Eumundi Markets where his skill, talent and knowledge of this ancientJapanese craftis well respected far and wide. He promotes his business under the name 'Simply Japanese Bonsai'.

Michael has been a regular stall holder at the Original Eumundi Markets for the past 23 years.

"Without these markets I would not be where I am today. The exposure my craft has gained to people who visit from all over the world has allowed me to share my knowledge and passion with great pride to a much wider audience than I would ever have been able to achieve from my own back yard", said Michael.

Michael's journey in life began at the tender age of 14 years. He left his home on the Gold Coast and joined an alternative lifestyle community in Northern NSW. The culture and philosophy of this community Michael then called home, was sharing. Survival for Michael manifested itself in his growing awareness that he needed to nurture from nature, produce to share and to give to others. As a kid, Michaelwas fixated on the 60's television series 'The Samurai' and became inspired by Shintaro. This became a turning point in Michaels' life as he began channelling Shintaro and set about potting and pruning silky oak trees as his way to contribute and earn his keep within the dynamics of communal living.

By his early twenties Michael's passion for bonsai had not waned and he professionally studied the art taking his passion to a whole new levelof proficiency. The 'Bonsai' literal meaning is 'tree in a tray'.His aim was to become more competent in the skill of balance and style when planting and pruning his beloved trees.

Michael's love of creating bonsai pieces of art was only ever intended to be a hobby as his life path took him to the roads as a truckie working to make ends meet. However, it was on these long trips he'd often stop along the way if a tree happened to catch his eye where the potential to feed his passion of a new bonsai creation, continued to develop that hobby.

The Bonsai Tree creates an illusion of age and is a visual focus of conversation enticing happiness and serenity forall to see. Over the years Michael continued to study the traditions and teaching dating back to 8 th Century Japan. It was through his dedication to his craft over so many years, that saw Michael invited to Japan through sponsorship to experience the culture providing some of his fondest memories.

When not spending his Saturdays at the Original Eumundi Markets, Michael teaches classes from his Bonsai home gallery in Pomona. By appointment people can come to view an array of exquisite trees dating back decades.

As Michael said, "Bonsai is about being creative, seeing a new vision in what nature has provided. It is about digging up an old dying tree and turning it into a Bonsai Masterpiece. To achieve that is every Bonsai Artisans' dream."

With the sale of every Bonsai tree, Michael offers ongoing support and advice. The Bonsai tree requires daily maintenance and is the commitment needed by the owner for the life of the tree.

Michael Eberle is the stall holder behind the 'Simply Japanese Bonsai'story at the Original Eumundi Market. Come discover many more stories every Wednesday and Saturday, rain, hail, and sunshine.