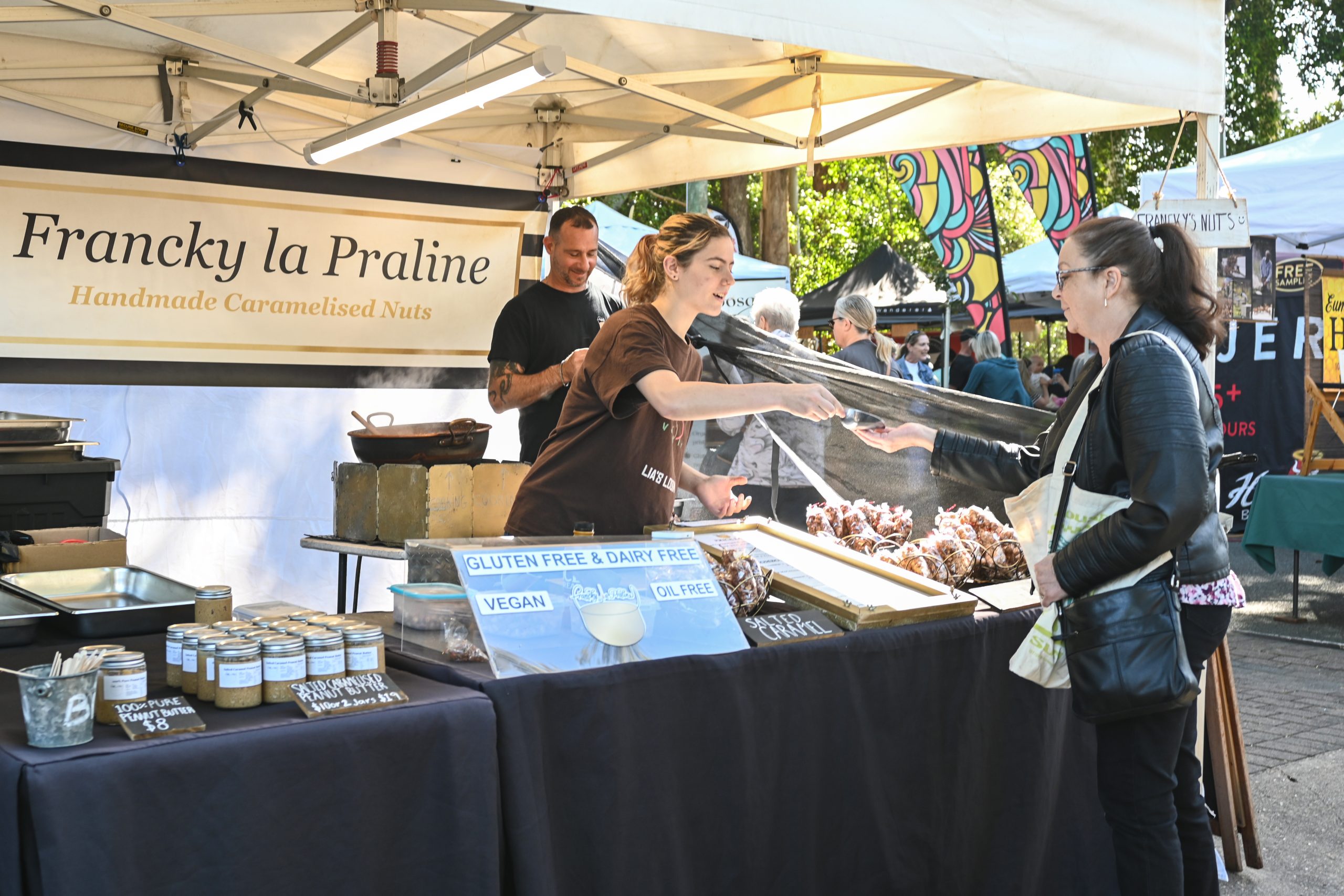 21 Jun

PASS THE NUTS PLEASE

PASS THE NUTS PLEASE

In the early hours on most market days there is one stall holder who is busy setting the scene for his day, with an incredibly mix of aromas reminding him of his homeland of France. As he stands over his heated cauldron he tosses, mixes, and blends to create the most perfect of delicacy. Meet Market Stallholder Francky Palluet, the master of taste behind Franckys La Praline.

Francky has been a stallholder at the Original Eumundi Markets for over 14 years. He is often the first to arrive on market days as all his caramelised nut and peanut butter products are hand made from raw ingredients and cooked and bagged on site every Wednesday and Saturday.

The key to these very morish caramelised delicacies is Franckys hand crafted authentic French copper cauldron which he imported from his homeland of France. The pot is known as a caldron because it is shaped exactly that way. In fact, in France this type of pot has a specific name being ' Cul de Poule' meaning, shaped like a chicken's bottom. It is in the depth and round shape of this pure copper pot that allows the cooking and mixing of the nuts with the added ingredients to deliver for Franckys many customers, the most perfect textures whilst allowing each of the nuts to retain their own unique flavour.

The finished texture of some of Franckys products is a light coating that gives a toffee taste that is not overly sweet if were only coated in sugar. Francky only uses cashews, macadamia, and almonds which he sources from Kingaroy, Yandina, Victoria, and Vietnam.

As Francky says…. Our best seller are the salted caramel peanuts. My customers love them. Francky has expanded to now include other specialty nut products including peanut and cashew nut butter range! Francky is committed to using only high quality ingredients like Kingaroy peanuts, Sunshine Coast macadamias, Australian cashews & almonds, Himalayan salt.

The range of products at Francky La Praline Stall are gluten free, dairy free and preservative free and an absolute favourite for the vegan palette.

Hand crafted nuts, traditional French praline that are made on site in a traditional copper cauldron and lightly caramelised for a delicate crunch have become the allure for this Original Eumundi stallholder. Perfect for all occasions, weddings, gifts, or parties!

Come say hi to Francky. He would love to meet you!

Francky Palluet is the Artisan, Stallholder, and talent behind Franckys La Praline. This story is another of the fabulous stories just waiting to be discovered at the Original Eumundi Markets, Wednesday and Saturday, rain, hail, or sunshine.