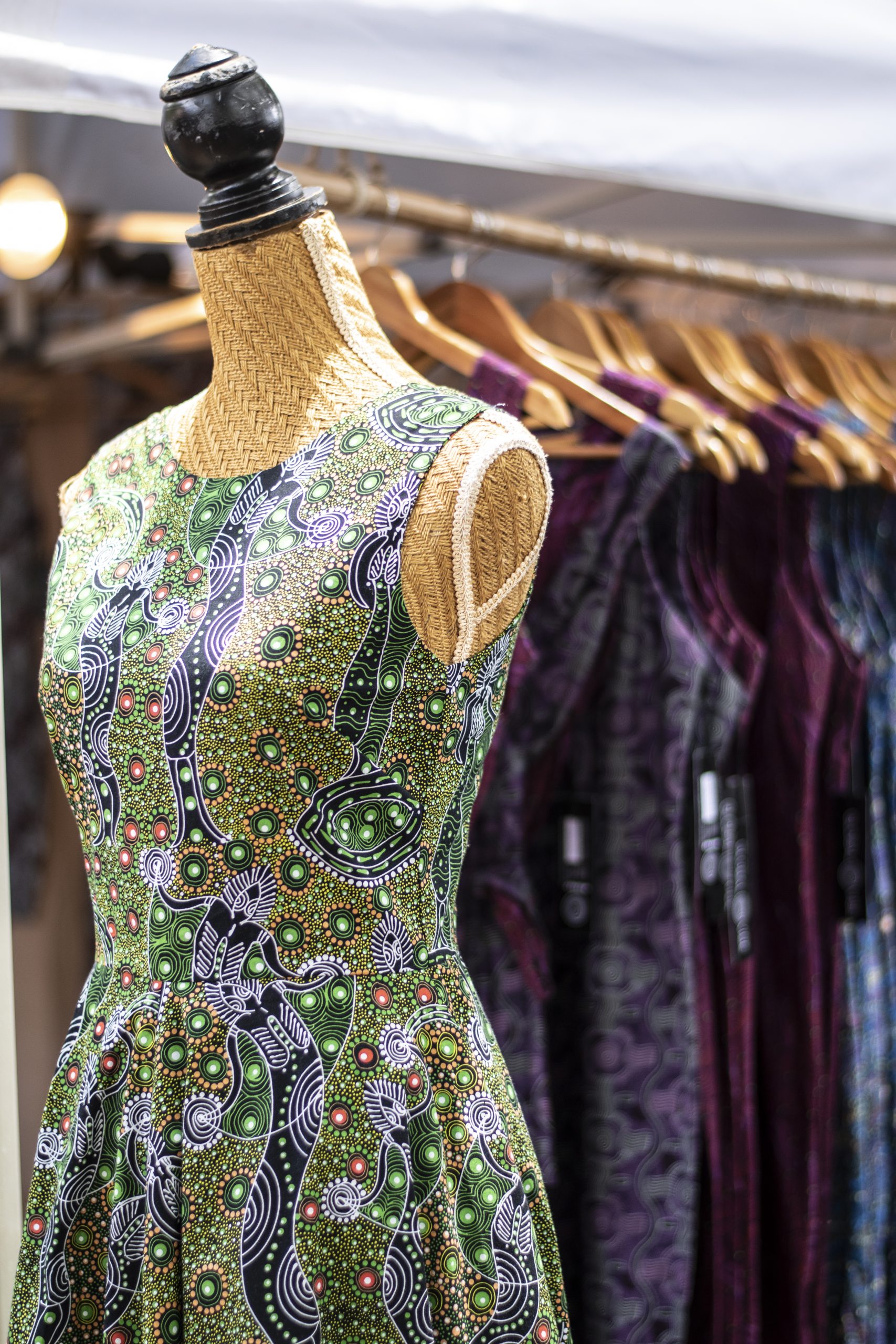 01 Dec

Storytelling. One Stitch at a Time.

Storytelling. One Stitch at a Time.

Denise Powell is a professional Pattern Maker and Designer of 40 years. She studied and refined her craft through embracing life experiences and love of country. She is an advocate for the richness in culture synonymous with 'Dreamtime' storytelling, the underpinning tradition of Aboriginal art. Respect and acknowledgment of this tradition which dates back 50,000 years, has seen this designers Sunshine Coast business, 'Global Vibe', become the local and international success.

Denise is a creator, dreamer, go getter and innovator at heart. She learned to sew from an early age on an old Singer treadle machine. Making summer dresses for long carefree days growing up on Sydney northern beaches became the memories stitched into her psyche leading to a passion she has pursued most of her life.

Completing high school, Denise found herself travelling to the 'top end' of Australia where she hitch-hiked a passage on a yacht to Asia with an adventurous New York couple. Her passion and youthful curiosity quickly awakened upon arrival in Bali. Here the intricate and vibrant pattens and colours of the batik sarongs worn by everyone, inspired the creator and innovator in her.

For two years Denise travelled throughout Asia hand stitching garments from the myriad of beautiful cloth at her fingertips. She then travelled to California to refine her passion, studying fashion design and pattern making. Here Denise opened her first boutique selling her designs whilst growing her business wholesaling to stores across the United States.

1999 saw Denise return to Australian shores. Working as a freelance pattern maker for various designers on the Sunshine Coast, she discovered fabric printed with Australian indigenous artwork. This inspired the entrepreneur within her to begin designing again.

Establishing the ethos of Global Vibe, Denise has worked with one Melbourne based Aboriginal elder for decades. He primarily sources original artwork from his community in the Northern Territory.

Global Vibe is now the recognised brand name of designs and creations using 100% high-quality cotton fabric printed from original paintings by Indigenous artists from all around Australia. Each garment carries a story. That garment is then carefully cut and sewn to individually optimise the artwork. Global Vibe clothing is made to measure; or customers purchase off the rack. Each garment is designed to best enhance the individual shape and body feature with alterations offered free of charge. The brand has an established online presence, and Global Vibe garments are shipped all over the world with the United Stated a continued time honoured market.

A distinguished brand established in Noosa in 2012, Denise Powell is the face of the Global Vibe stall at the Original Eumundi Markets. For the last decade, Global Vibe apparel has been a favourite for locals, tourists, and world travellers. Global Vibe is another of the many quality stallholder stories waiting to be discovered at the famous Original Eumundi Markets. Make it. Bake it. Sew it. Grow it. Discover it Wednesday and Saturday, rain, hail or sunshine. Embrace your own adventure.