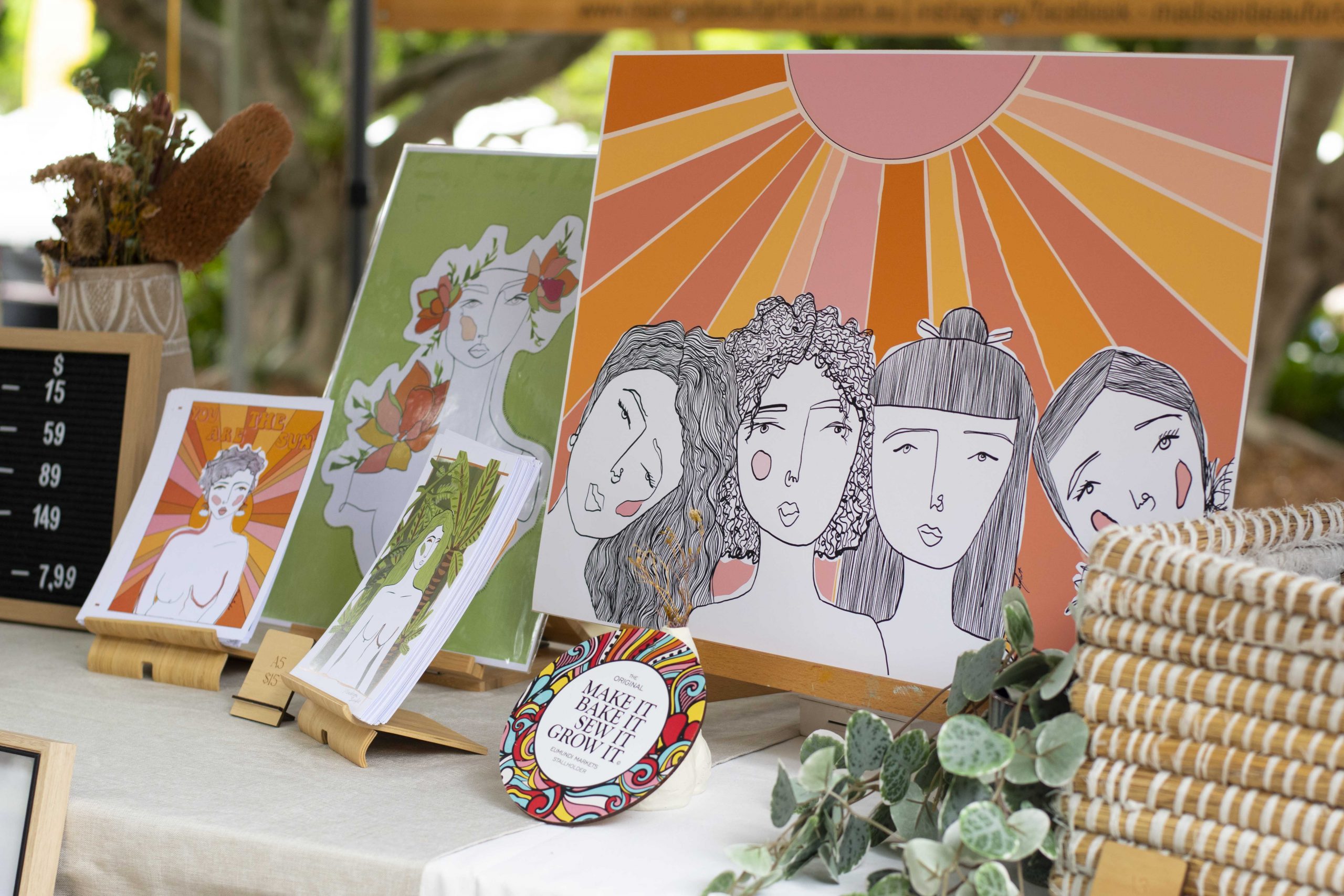 04 Feb

THE STROKE OF A WOMAN

THE STROKE OF A WOMAN

Andi. Kuri. Dawn. Freyja. Dakota. Azara. Farah. Etta. These beautiful names are but a few of many that have become part of the engaging 'Sisterhood' art collection at the Original Eumundi Markets. Separately they are artistic creations in their own right where personality has met brush stroke. Each painting comes to life through the vibrancy of colour and technique. The fascinating personality behind each painting is Madi, also known as Madison of Madison Beaufort Art.

Madi is a renowned artist and respected stallholder at the Original Eumundi Markets. Her adoration of a woman, her form, and the power she holds within herself, has become a phenomenal journey of discovery opening doors to artistic notoriety for this Sunshine Coast innovator and creator.

As a little girl, it was elephants and fairies that became the subject of Madison's creative flair as she transformed old boxes and pieces of paper, into a works of art. Honing into her yet untapped entrepreneurial capabilities, young Madi quickly discovered people would pay her to purchase one of her unique artistic creations.

Taking a leap of faith in 2021 and leaving the security of her fulltime job as a teacher, Madi drew on the power that had been present throughout her life. She was raised being surrounded by strong intelligent, confident women. These women became Madison's inspiration. They were the reason she became strong enough to showcase her talent to the world. These woman had inspired her, challenged her, and awakened in her a true power all of her own. Madi took the lessons she had learnt through the examples she was shown, and not only seized each day with her artistic ability, but she also let her art determine her path forward in life and so the lucidness of the 'Sisterhood' art collection was born.

As Madison said, "Each print has her own story, her own lesson, name, personality. These prints stand for the lessons and loves I have learnt in this life, and for the women who have made me what I am. I now live the ferocious life that I have always dreamt of living. Women are my muses and womanhood is the marvel within me. Femininity, and the power of an untamed woman awakened my creativity to the point where it clawed to spill out onto a canvas."

Madison Beaufort Art now hangs in homes, offices, bedrooms, and special places all over the Coast and the final destinations her many customers have taken them. Each individual print comes with a personality card introducing the purchaser to the phenomenal woman who inspired the piece.

This phenomenal woman who goes by the name of Madison Beaufort describes herself as a disorganised, crazy, creative ball of fun who craves adventure as much as she craves chocolate. She is still in her infancy with her artistic journey but standing at her stall at the Original Eumundi Markets, her raw talent draws you in with an oozing to dare her to show you what she can do. It is most certainly a case of – 'Watch this space'.

Madison Beaufort is the stallholder behind Madison Beaufort Art. Madi's story is another of the fabulous stallholder stories just waiting to be discovered at the Original Eumundi Markets, Wednesday and Saturday, rain, hail, or sunshine.