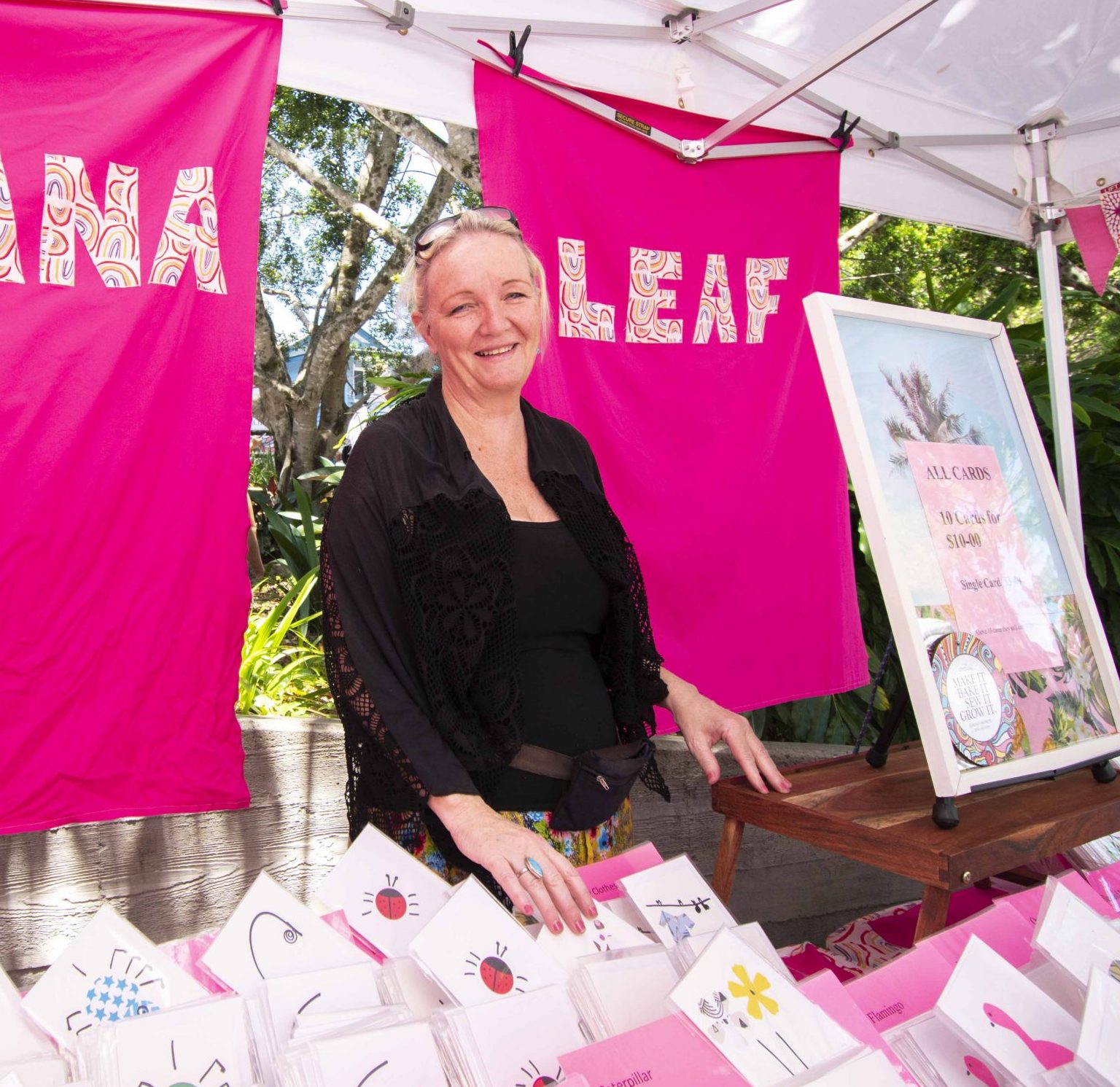 21 Dec

DOODLED CARDS OF LOVE

DOODLED CARDS OF LOVE

Lisa Bowes is one very busy lady. Her days are filled manifesting all her childhood dreams as she spends many hours doodling, drawing, sticking, stacking, and sorting. She also juggles life around her 30 year banking career. It was this passion in Lisa's life that called to her to get more creative and in do so, she has become the brainchild behind 'Banana Leaf Noosa'. The Unique hand crafted gift card stall at the Original Eumundi Markets.

Lisa has two sons, Billy, and Charlie. As a mother raising boys who are now both strapping young men, her sons became the inspiration of many of the Banana Leaf Noosa card designs.

The 'Charlie Giraffe' collection – sprang to mind as little Charlie is now 6 foot 3 inches tall. The 'Band-aide Billy' collection was inspired by the many bumps and bruises her footy loving son Billy has had to endure to excel in his sporting passion. Lisa's' quirky card designs spring from many of her life scenarios. 'Lady with a Wine Glass' Collection; 'The Noosa Cockatoo' Collection; 'The Noosa Koala' Collection, and the 'Little Rabbit Collection' inspired by an adorable illustration on a t-shirt a little girl was wearing who come to visit Lisa's stall. The array of Banana Leaf Noosa designs engages her customers in a fun, simple and playful way which consistently prove to be the exact fit for the individuals card intention.

Lisa gives particular attention to each card creation, which makes them so unique. Her card portfolio has a variety of colours, patterns & themes with lots of colour. Each card is a mixture of hand cut paper & drawing. These wonderful artistic craft cards are sold individually or in packs at affordable prices that will perfectly compliment even the most lavish of gifts. The cards are blank inside allowing her customers to fashion their own tailored words. Each of the one-of-a-kind cards come with its own individual envelope.

Stallholders at the Original Eumundi Markets become family. Many stallholders come from such fascinating backgrounds so left field of the item they present with pride to their customers. It is that desire to pursue and turn an interest or hobby into a small business, that is the family connection they all have. Like so many Original Eumundi Market stallholders, Lisa has been a regular face and stallholder for the last 16 years since leaving her banking career to launch her card business in October 2008.

Creating original cards for friends and family was always a hobby that provided this very busy lady the chance to spread a little love with her gift giving talents. It then organically evolved into a small business and a very popular stall as demand for her cards reached national proportions. With her customers being locals, visitors, day trippers and international travellers, Banana Leaf Noosa cards can now be found in homes all over the world thanks to the innovation and passion of this very talented lady.

Lisa Bowes is the stallholder of Banana Leaf Noosa. This is another of the fabulous stories just waiting to be discovered at the Original Eumundi Markets, Wednesday and Saturday, rain, hail, or sunshine.