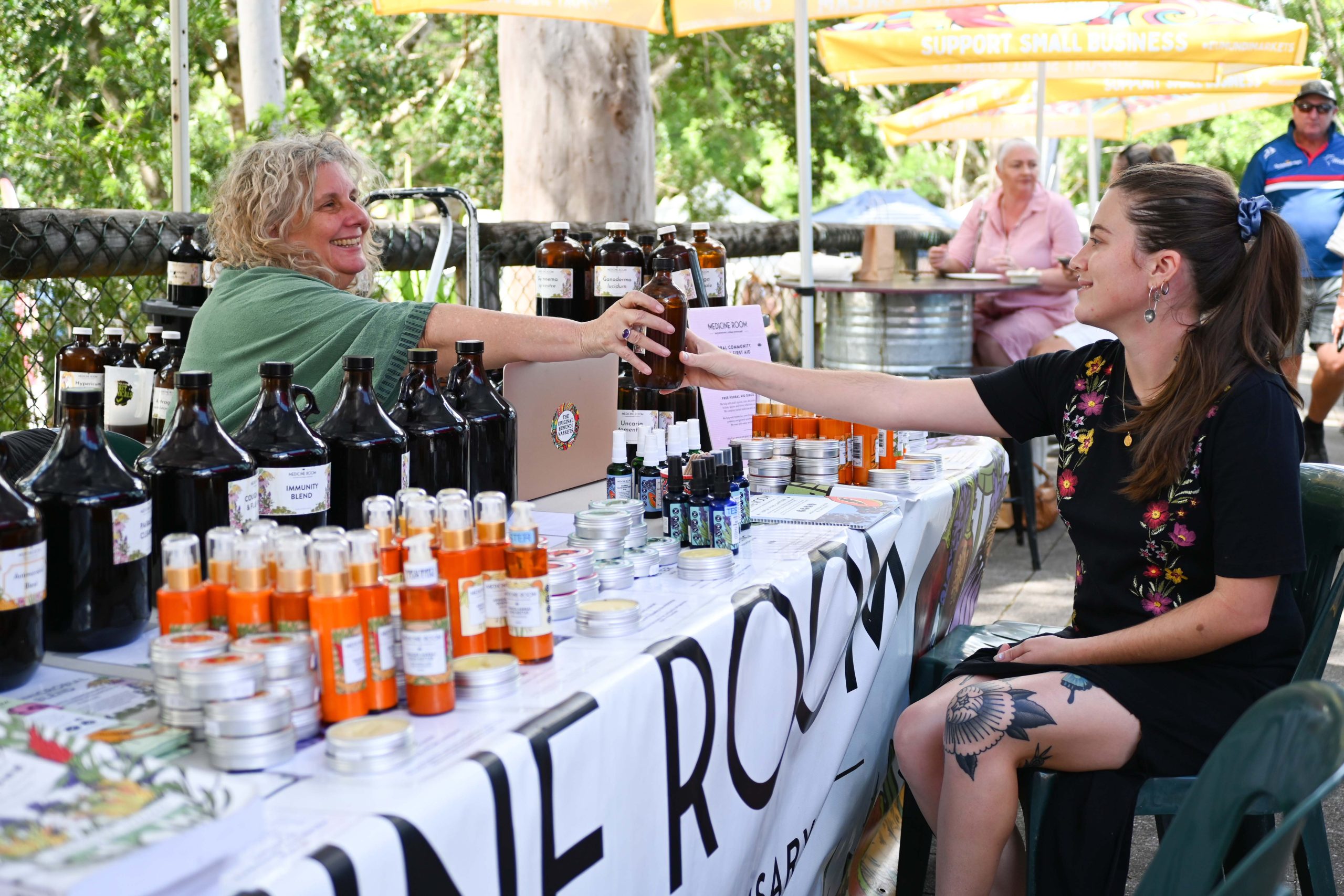 19 Apr

NO APPOINTMENT NEEDED

NO APPOINTMENT NEEDED

Your prescription reads – 'Walk up to better health at the Medicine Room'.

There is a wealth of wisdom, knowledge and potential health and healing products at your fingertips at the free community based clinic right in the heart of Eumundi every Saturday. This clinic, in Original Eumundi Markets terms is referred to as a 'market stall' and there is no appointment needed.

Medicine Room the market stall, offers their customers handcrafted organic plant medicines and skincare products, with a range of Hand Sanitisers, Moisturising Skin Balms and Creams; Essential Oils, Perfumes and Sprays; Body and Massage Oils; Herbal Teas and Raw Herbs.

Stallholder Dominque 'Dom' Livkamal is an award winning herbalist, naturopath, and published author of three books. Her Master's Degree training, knowledge and insight into public health and health promotion has seen her deliver lectures and speaking engagements around the world. She is a passionate advocate of free community based clinics to enable anyone and everyone to have access to a better pathway forward in health and wellness.

From an early age, Dominique was immersed in cooking, herbal medicine, and writing.

Inspired by pioneering women in the beauty product industry and her own upbringing, she studied naturopathy, herbal medicine, and a Master of Public Health, creating her own medicines, skincare products and community health model.

Dom is founder and naturopath at Medicine Room. She developed the herbal manufacturing processes for herbal extractions. Medicine Room market stall at the Original Eumundi Markets has been located in exactly the same spot every Saturday since 2004. She has built a strong and loyal clientele both local and international who specifically seek out the Medicine Room when back on Eumundi turf.

Dom is a constant student of health and wellness. She has facilitated many wellness sessions over the years at these Markets. She develops, formulates, and offers quality herbal formulas to meet the individual health and wellness objectives. All of the herbs used are specifically chosen for their proven effectiveness and energetics.

As Dom says, "Connection to community is a cornerstone of health and wellness. We believe you should not be disadvantaged if you choose naturopathic and herbal medicine as your primary healthcare model. We have been offering free consultations since 1999. Our free clinic here at the Original Eumundi Markets supports community by providing naturopathic medicine consultations across several accessible platforms – no appointment needed.

Being a stallholder of many years, Dom says it is the market stall that has become a great vehicle to test new products. Her finger is on the pulse for health trends and concerns working in such a public environment. It is here Dom learns what illness trends are current and through the accessibility of the clinic can provide measures to protect, strengthen and treat the individual towards better health.

Dominque Livkamal is the Stallholder, and Medicine Room is the Market Stall. This story is another of the fabulous stories just waiting to be discovered at the Original Eumundi Markets, Wednesday and Saturday, rain, hail, or sunshine.