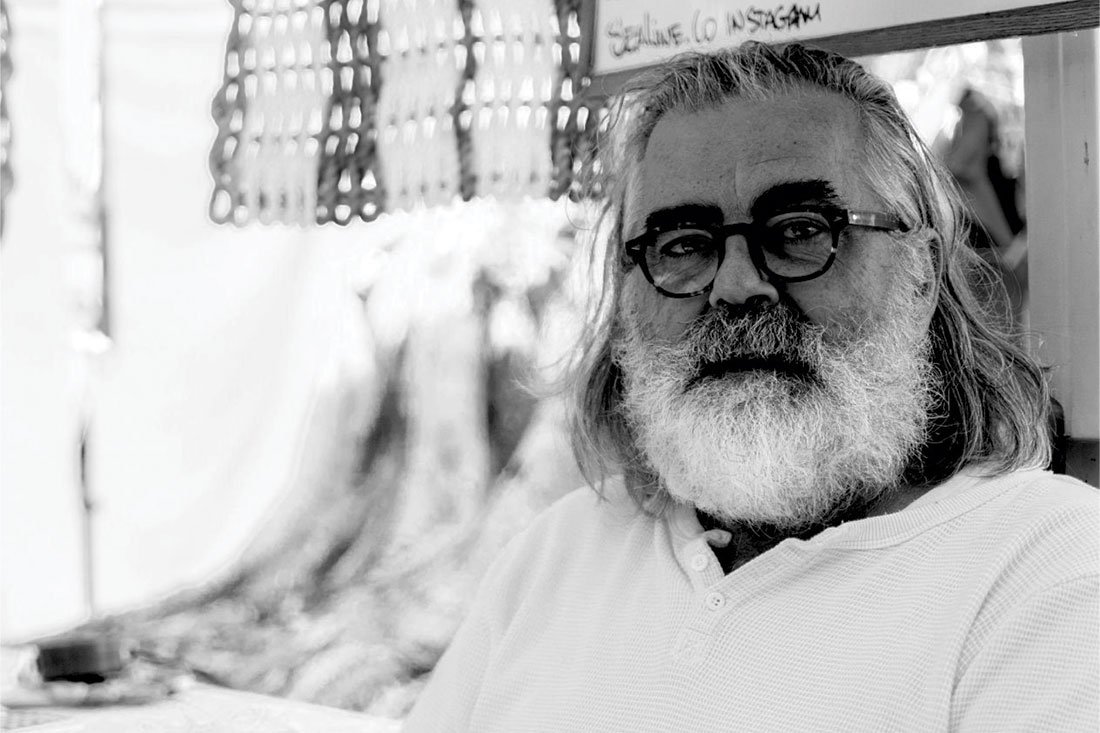 28 Sep

Stop ducking & start weaving
With Larry Reston from Sealine Co at The Original Eumundi Markets – Long Story Short series, By Kita lawrence
It was repurposed marine rope that kept Sunshine Coast local Larry Reston afloat during the uncertainty of 2020. As retailers across the country started to close their doors due to Covid-19 and Larry's hours were being drastically reduced, he had a little something tinkering away in the background, a hobby that was pulling on his creative heart strings and an idea that was weaving its way into his life at a seemingly perfect time.
It was door mats……yes, door mats. It's the obvious segue from Larry's 42 years in the fashion industry as a national and international agent…… right? …… maybe not, but to Larry it made complete sense! Spend a little time with this extremely chilled guy and you will understand how hand weaving repurposed lobster and anchor line into artisan door mats seamlessly rolled into a brilliant career change!
It all started when 62 year old Larry was in year 7 at Redcliffe Primary School and he discovered his passion of weaving nets for local fisherman! Little did he know decades later he would watch a documentary about weaving mats out of marine float rope and it would take him right back to those early childhood memories and his love for the craft! He immediately became inspired to weave using repurposed material and do his bit to keep the line out of the ocean, so this long time, mad keen surfer finally took a leap and left the fashion industry.
He sourced a mass amount of virgin and semi recycled float rope and began streamlining his skills into his new business. He started doing one day a week at the Original Eumundi Markets, then two and now the stylish Sealine Co mats are also stocked at local retailers. All this, alongside a high demand for custom orders means Larry is officially busier than ever, but with his relaxed and friendly persona, you can tell that a surf at 5am at Tea Tree Bay in Noosa is no longer the most chilled out part of this mans day!
A true artisan in his element, Larry reignited a childhood passion and allowed himself to head in a whole new direction…….and it paid off!
I asked Larry if he had any advice for others thinking about starting their own small business… "follow your dream or hobby, it could turn into something a lot bigger. Don't ever think it's too late!"
Then with a smile through his salt bleached beard …….. "stop ducking and start weaving".
You can catch Larry at his stall on Wednesday and Saturday at the Original Eumundi Markets and check out his Instagram for his latest inspo & designs, oh and his circa 70's & 80's surf pics of course!